My July Contest - A Signed Copy of Dead and Gone by Charlaine Harris!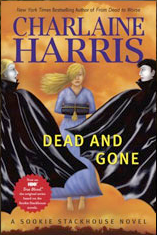 How about a hot vampire romance to make this summer even hotter?
Check out my July Contest!
July is one of my favorite months, partially because that's when Comic-Con comes to San Diego every year. I'm not ashamed to admit it. I am a total geek. One reason I'm excited is that this gives me the opportunity to see some of my Buffy Buds - all of us are huge fans of Joss Whedon and Comic-Con gives an opportunity to geek-out together! Embarrassing, I know.


Charlaine Harris took some time off earlier this year due to her daughter's graduation. But she will be attending Comic-Con and promoting her newest release in the Sookie Stackhouse/True Blood Series: Dead and Gone, available now in hard cover. A signed copy could be yours!


To enter you must (1) be on Sam's newsletter mailing list and (2) send in your entry via the contact form on Sam's website. Provide your snail mail address along with the phrase "July Contest".


Website: http://www.samanthasommersby.com


Good luck all!


Sam